1st Battalion, 8th Cavalry Regiment, 1st Air Cavalry Division Association Collection (369) Finding Aid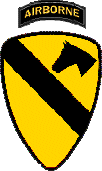 Scope and Contents
Approximately seven linear feet of daily staff journals, correspondence, newspaper clippings, and other materials document the service of the 1st Battalion, 8th Cavalry Regiment, 1st Air Cavalry Division 'Jumping Mustangs' during the Vietnam Conflict and the issues of the association after the war. The first four boxes of the collection contain the daily staff journals from the battalion listed chronologically, 1965-1971, and are followed by the rest of the materials, which date from both the war and post-war periods.
Dates
Biographical / Historical
The objective of the Jumping Mustangs Association is to preserve the memory, history and honor of those who served with 1/8 CAV before, during, and after the Vietnam War. The Association is active in promoting the research, dissemination and preservation of information concerning Association members and assist members in locating others with whom they served.
Language of Materials
English
Title

Finding Aid

Length (Linear Feet)

7.0

Pages

6

Location(s)

D101.3A
Box Box 1: [Box 1] [TTU - Southwest Collections Building, Stacks [D101.3A ]]
Box Box 2: [Box 2] [TTU - Southwest Collections Building, Stacks [D101.3A ]]
Box Box 3: [Box 3] [TTU - Southwest Collections Building, Stacks [D101.3A ]]
Box Box 4: [Box 4] [TTU - Southwest Collections Building, Stacks [D101.3A ]]
Box Box 5: [Box 5] [TTU - Southwest Collections Building, Stacks [D101.3A ]]
Box 1000: [1000] [TTU - Southwest Collections Building, Stacks, D056.3 Individual Oversize Box 9 [D56.3]]
Inventory
August 1-September 30, 1965

October 1-15, 1965

October 16-31, 1965

November 1-14, 1965

November 15-30, 1965

December 1-13, 1965

December 14-31, 1965 -

December 1-12, 1966

December 13-31, 1966

January 1-31, 1967

February 1-15, 1967

February 16-28, 1967

March 1-15, 1967

March 16-31, 1967

April 1-15, 1967

April 16-30, 1967

May 1-15, 1967

May 16-31, 1967

June 1-30, 1967

July 1-15, 1967

July 16-31, 1967

August 1-15, 1967

August 16-31, 1967

September 1-15, 1967

September 16-30, 1967

October 1-15, 1967

October 16-31, 1967

November 1-15, 1967

November 16-30, 1967

December 1-31, 1967

January 1-31, 1968

February 1-29, 1968

March 1-31, 1968

April 1-30, 1968

May 1-31, 1968

June 1-15, 1968

June 16-30, 1968

July 1-15, 1968

July 16-31, 1968

August 1-15, 1968

August 16-31, 1968

September 1-30, 1968

October 1-31, 1968

November-December, 1968

January 1-15, 1969

January 16-31, 1969

February 1-14, 1969

February 15-28, 1969

March 1-15, 1969

March 16-31, 1969

April 1-30, 1969

May 1-31, 1969

June 1-30, 1969

July 1-31, 1969

August 1-15, 1969

August 16-23, 1969

August 24-31, 1969

September 1-10, 1969

September 11-20, 1969

September 21-30, 1969

October 1-10, 1969

October 11-20, 1969

October 21-31, 1969

November 1-10, 1969

November 11-20, 1969

November 21-30, 1969

December 1-15, 1969

December 16-31, 1969

January 1-15, 1970

January 16-31, 1969

February 1-14, 1970

February 15-28, 1970

March 1-10, 1970

March 11-20, 1970

March 21-31, 1970

April 1-10, 1970

April 11-20, 1970

April 21-30, 1970

May 1-10, 1970

May 11-20, 1970

May 21-31, 1970

June 1-10, 1970

June 11-20, 1970

June 21-30, 1970

July 1-10, 1970

July 11-20, 1970

July 21-31, 1970

August 1-10, 1970

August 11-20, 1970

August 21-31, 1970

September 1-10, 1970

September 11-20, 1970

September 21-30, 1970

October 1-15, 1970

October 16-31, 1970

November 1-10, 1970

November 11-20, 1970

November 21-30, 1970

December 1-10, 1970

December 11-20, 1970

December 21-31, 1970

January 1-10, 1971

January 11-20, 1971

January 21-31, 1971

February 1-14, 1971

February 15-28, 1971

March 1-7, 1971

Colonel Kenneth Mertel, Year of the Horse with order form, 1996 -

Letters, 1998

Reunion Information, 2001

-

Oversize material

Newspaper Articles

"They were Soldiers" Columbus Ledger-Enquirer Special Section, Sunday, March 3, 2002
3

Electronic Media

369EM0221 - 1/8 Cavalry Association Daily Staff Journals 1965 - 1969
369EM0222 - 1/8 Cavalry Association Daily Staff Journals 1970
369EM0223 - 1/8 Cavalry Association Reunion Photographs

Click here to view all Electronic Media

2

Museum Objects

369museum0365 - Memorial diorama
369museum0366 - In memory table candle holder

Click here to view all Museum Objects

2

Newsletters

Jumping Mustang Bugle: 2002: January, September

Click here to view all Newsletters

6

Serials

The Saturday Evening Post: 1963: March 23; 1967: March 25
Life: 1968: February 2, February 9, February 16, March 22

Click here to view all Serials

2667

Photographs

VA021188 - VA023802

Click here to view all Photographs
---
Pub Credit Line

3690000000, 1st Battalion, 8th Cavalry Regiment, 1st Air Cavalry Division Association Collection, The Vietnam Center and Sam Johnson Archive, Texas Tech University

---

Added: 08 Jan 2002 [Updated: 13 Sep 2019]
Vietnam Center & Sam Johnson Vietnam Archive