Ted Acheson Collection (725) Finding Aid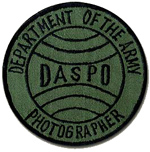 Collection:
Scope and Contents
Photographs, documents, letters, newspaper clippings, an issue of Operating Cameraman featuring an article by Acheson, printed material and other ephemera collected by Ted Acheson document his years of service in Southeast Asia Unit of DASPO. Film and slide projectors, a tripod dolly, and a military issue rucksack with a baggage Vietnam War era tag attached.
Dates
Biographical / Historical
Ted Acheson served in Southeast Asia Unit of the Department of the Army Special Photographic Office (DASPO).
Language of Materials
English
Title

Finding Aid

Length (Linear Feet)

3.3

Pages

2

Location(s)

D102.4A, D102.3C, Photograph Collection, Slide Collection, Cold Storage Vault, Museum Objects, Periodical Collection; D204.7
1

Books

Vietnam Sketchbook: Drawings from Delta to DMZ by Charles Waterhouse

6

Photographs

VA002209, VA002425, VA002514, VA002526, VA002542, VA002544, VA027186 - VA027290, VA030128 - VA030143, VA030671, and Approximately 50 120 mm color negatives. Two negatives - one sleeve: VAN005009 (two men) and VAN005010 (man exiting property)
VA039261: Ted Acheson in Saigon holdinding Yaschica camera (March 1968), VA039262
VA039262: William Foulke 1977
VA043248-VA043251: 4 Photographs of Ted Acheson's service with DASPO in Vietnam, 1969
2 photographs of the DASPO at Khe Sahn, April 1968, and First Members of DASPO Team B on the Thailand/Burma border, 1962
VA059590-VA059600: 11 Photographs taken primarily in Honolulu during TDY.

Click here to view all Photographs

3

Slides

VAS016489 - VAS016514, VAS045241-VAS045269, VAS049630-VAS049668
29 Slides from Korea, and a Bob Hope Show.
39 slides from Okinawa, Korea, Saigon, and a Bob Hope show

Click here to view all Slides

24

Museum Objects

725museum0570: US Passport
725museum0571: 1 X 10 Baht note (Thailand)
725museum0572 - 725museum0573: 2 X 50 dong notes (Vietnam)
725museum0574: 1 X 100 dong note (Vietnam)
725museum0575: 1 X 10 Won Note (Korea)
725museum0739: Certificate Holder from the United States War Office (Originally contained Certificate of Appreciation for Ted Acheson)
725museum0740: Army Helmet
725museum1012: US Army backpack with external frame
725museum1013: 16mm Bell and Howell film magazine (400 ft)
725museum1014: Brown camera case with green felt lining
725museum1015: 16mm Bell and Howell film camera
725museum1531: Yashica still camera
725museum1532: Bell and Howell Filmo motor drive for 16mm film camera
725museum1722: Innovative Television Equipment tripod with Miller Fluid Heads attachment
725museum1723: Various camera accessories
725museum1724: Beaulieu R 16 Automatic motion picture film camera
725museum1725: Paillard Bolex motion picture film camera
725museum1726: Arriflex Model 16S 16mm motion picture film camera
725museum2789: Kodak Pageant Sound Film Projector
725museum2790: Kodak Medalist Carousel Slide Projector with remote control
725museum2791: Military issue rucksack with Vietnam War era baggage tag (from Phu Bai to Tan Son Nhut)
725museum2792: Camera tripod dolly
725museum2894: One Sony portable U-Matic SP videocassette recorder (VO-8800)used by Ted Acheson to produce audio/visual materials
4 by 5 Speed Graphic Camera

Click here to view all Museum Objects

1

Electronic Media

725EM0157: Ted Acheson Oral History

Click here to view all Electronic Media

7

Moving Images

725VI0630 CNN Inside Asia (April 29, 2000)
725VI0631 Army Combat Photographer
725VI0632 Combat Photographers, Tom Mintier
725VI3073: DVD-R: Battle footage at Chu Lai, 6 May 1968 involving 2/17th Air Cav, 101st Airborne
725VI3207 Combat near Hue 1968
725VI3208 Power House Lounge, OJT assignment by Abbott, R and R in Hawaii
725VI3219 Operation on Vietnamese civilian woman's clavicle
725VI3224 POW Hospital
725VI3225 Cambodian paratroop training by Special Forces, Cam Ranh Bay, 1969
725VI3346 Combat footage near Hue, May 1, 1968
725VI3350 Five short films by Ted Acheson 1968
725vi3354: Bob Hope Show

Click here to view all Moving Images

40

Serials

American Philatelist: 2001: October

Contemporary Southeast Asia: 2002: August

Conversations: Occasional Writing from the Research School of Pacific and Asian Studies: 2000: December

Economist: 2000: November 11

Encore: 2000: September 17, 2019

Get Clinical: 2001: July 23

Life: 1968: February 16

Newsweek: 1968: March 19

Operating Cameraman: The Journal of the Society of Camera Operators: 2004: Spring-Summer

Pacific Affairs: 2001: Winter

Parameters: 2002: April 1

Small Wars & Insurgencies: 2001: May 1

South East Asia Research: 2000: November

Survival: 2002: April 1

Time Out: 2001: February 12, February 19, February 26, March 19, March 26, April 2, April 9, April 30, May 14, May 21, May 28, June 4, July 9, July 30, August 27, September 3, October 17; 2002: February 18, February 25, March 11, March 18, March 25, April 1, April 4

Vietnam Cultural Window: 2001: June

Watershed: People's Forum on Ecology, Burma, Cambodia, Lao PDF, Thailand, Vietnam: 2001: March

Click here to view all Serials

1

Oral History

OH0291 Interview with Theodore Acheson

Click here to view all

Oral History
Box 1: [1] [TTU - Southwest Collections Building, Stacks [D102.4A ]]
Box 1000: [1000] [TTU - Southwest Collections Building, Stacks, D056.3 Individual Oversize Box 9 [D56.3]]
Inventory
US Government Motor Vehicle Operator ID Card, 1968

US Military ID card, 1969

Visa issuance Record Form, 1967

Letter from Doris Tyne (March 12, 1969)

Newsfilm release (May 24, 1968)

DASPO Critiques: February 1968, June 1968, undated

Typing certificate, August 1967

US Army Signal School Diploma, June 30, 1967

Transmittal of the Purple Heart August 12, 1968

Letter from Daniel Z. Henkin, Asst. Sec. of Defense, April 17, 1970

Letter from Brigadier General Winant Sidle, Chief of Information, April 24, 1970

Letter from Congressman Donald W. Reigle, Jr., July 31, 1970

University of Wisconsin - Milwuakee instructional media

Laboratory newsletter clipping - "Acheson named service photographer of the year", undated

Letters of commendation, February 5 - 26, 1969

Letters of appreciation, August 1 - 7, 1969

Newspaper clippings

Business card with Asian letters

pocket menu from the Paolo Italian Restaurant, Saigon

Note from Stewart Barbee, undated

Note from Wendell Howland, undated

Sheet of US postage stamps: the rebellious 60s and the man on the moon

Photocopied newspaper clipping

DASPO (1963 - 1975), PAC PAN CONUS Foundation document, undated

Letter from Arthur A. Jones, May 25, 2001

Letter from Stewart Barbee

Letter to Stewart Barbee from Ed Lewin, February 20, 1990

"History of the US Army Visual Information Center 1918 - 1933"

"The Early DASPO", Claude Bache, USA (Ret.)

"The Story of DASPO" by Arthur A. Jones

DASPO information bulletin #2 (September 1963)

DASPO Members not currently on roster

Photocopy newspaper article from Rocky Mountain News (Denver) April 19, 2000. "North Vietnamese Photos ahave been 'in the shadows for 25 years'"

Certificates and Discharge Papers, 1967-1972

Letters to Home from Ted Acheson, 1967-1969 and undated

Letter to Ted Acheson, April 30, 1968

Letter of Commendation, 1970

Memorial Service Program for Charles F. Rein, December 3, 1968

Military Pay Vouchers, 1967-1969

News clippings

News clipping photocopies

Photo Captions and Critiques, 1968-1969

TDY Orders, 1967-1969

Operation and care maual for the Bell and Howell Filmo 70 motion picture camera

List of Acheson films used by major networks

TDY Orders, February 19, 1968

Film negative sleeve from Thailand

Army Digest Article, "Soldiers with Cameras" 1964

DASPO Family Tree

History of the US Army Visual Information Center,1918-1993

Historical List of Commanders of U.S. Army Visual Infomation Center (USAVIC)

Letter to Alice from Ted Acheson dated October 16, 1969

Oversize material

Original Newspapers
1

Books

Vietnam Sketchbook: Drawings from Delta to DMZ by Charles Waterhouse

6

Photographs

VA002209, VA002425, VA002514, VA002526, VA002542, VA002544, VA027186 - VA027290, VA030128 - VA030143, VA030671, and Approximately 50 120 mm color negatives. Two negatives - one sleeve: VAN005009 (two men) and VAN005010 (man exiting property)
VA039261: Ted Acheson in Saigon holdinding Yaschica camera (March 1968), VA039262
VA039262: William Foulke 1977
VA043248-VA043251: 4 Photographs of Ted Acheson's service with DASPO in Vietnam, 1969
2 photographs of the DASPO at Khe Sahn, April 1968, and First Members of DASPO Team B on the Thailand/Burma border, 1962
VA059590-VA059600: 11 Photographs taken primarily in Honolulu during TDY.

Click here to view all Photographs

3

Slides

VAS016489 - VAS016514, VAS045241-VAS045269, VAS049630-VAS049668
29 Slides from Korea, and a Bob Hope Show.
39 slides from Okinawa, Korea, Saigon, and a Bob Hope show

Click here to view all Slides

24

Museum Objects

725museum0570: US Passport
725museum0571: 1 X 10 Baht note (Thailand)
725museum0572 - 725museum0573: 2 X 50 dong notes (Vietnam)
725museum0574: 1 X 100 dong note (Vietnam)
725museum0575: 1 X 10 Won Note (Korea)
725museum0739: Certificate Holder from the United States War Office (Originally contained Certificate of Appreciation for Ted Acheson)
725museum0740: Army Helmet
725museum1012: US Army backpack with external frame
725museum1013: 16mm Bell and Howell film magazine (400 ft)
725museum1014: Brown camera case with green felt lining
725museum1015: 16mm Bell and Howell film camera
725museum1531: Yashica still camera
725museum1532: Bell and Howell Filmo motor drive for 16mm film camera
725museum1722: Innovative Television Equipment tripod with Miller Fluid Heads attachment
725museum1723: Various camera accessories
725museum1724: Beaulieu R 16 Automatic motion picture film camera
725museum1725: Paillard Bolex motion picture film camera
725museum1726: Arriflex Model 16S 16mm motion picture film camera
725museum2789: Kodak Pageant Sound Film Projector
725museum2790: Kodak Medalist Carousel Slide Projector with remote control
725museum2791: Military issue rucksack with Vietnam War era baggage tag (from Phu Bai to Tan Son Nhut)
725museum2792: Camera tripod dolly
725museum2894: One Sony portable U-Matic SP videocassette recorder (VO-8800)used by Ted Acheson to produce audio/visual materials
4 by 5 Speed Graphic Camera

Click here to view all Museum Objects

1

Electronic Media

725EM0157: Ted Acheson Oral History

Click here to view all Electronic Media

7

Moving Images

725VI0630 CNN Inside Asia (April 29, 2000)
725VI0631 Army Combat Photographer
725VI0632 Combat Photographers, Tom Mintier
725VI3073: DVD-R: Battle footage at Chu Lai, 6 May 1968 involving 2/17th Air Cav, 101st Airborne
725VI3207 Combat near Hue 1968
725VI3208 Power House Lounge, OJT assignment by Abbott, R and R in Hawaii
725VI3219 Operation on Vietnamese civilian woman's clavicle
725VI3224 POW Hospital
725VI3225 Cambodian paratroop training by Special Forces, Cam Ranh Bay, 1969
725VI3346 Combat footage near Hue, May 1, 1968
725VI3350 Five short films by Ted Acheson 1968
725vi3354: Bob Hope Show

Click here to view all Moving Images

40

Serials

American Philatelist: 2001: October

Contemporary Southeast Asia: 2002: August

Conversations: Occasional Writing from the Research School of Pacific and Asian Studies: 2000: December

Economist: 2000: November 11

Encore: 2000: September 17, 2019

Get Clinical: 2001: July 23

Life: 1968: February 16

Newsweek: 1968: March 19

Operating Cameraman: The Journal of the Society of Camera Operators: 2004: Spring-Summer

Pacific Affairs: 2001: Winter

Parameters: 2002: April 1

Small Wars & Insurgencies: 2001: May 1

South East Asia Research: 2000: November

Survival: 2002: April 1

Time Out: 2001: February 12, February 19, February 26, March 19, March 26, April 2, April 9, April 30, May 14, May 21, May 28, June 4, July 9, July 30, August 27, September 3, October 17; 2002: February 18, February 25, March 11, March 18, March 25, April 1, April 4

Vietnam Cultural Window: 2001: June

Watershed: People's Forum on Ecology, Burma, Cambodia, Lao PDF, Thailand, Vietnam: 2001: March

Click here to view all Serials

1

Oral History

OH0291 Interview with Theodore Acheson

Click here to view all

Oral History
---
Pub Credit Line

7250000000, Ted Acheson Collection, The Vietnam Center and Sam Johnson Archive, Texas Tech University

---

Added: 05 Jun 2002 [Updated: 30 Sep 2019]
Vietnam Center & Sam Johnson Vietnam Archive