Ed Lewin Collection (728) Finding Aid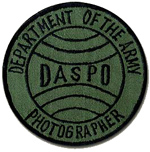 Collection:
Scope and Contents
Ed Lewin's photographs and uniform document his service in Southeast Asia with the Department of the Army Special Photographic Office (DASPO).
Dates
Biographical / Historical
Ed Lewin served as a DASPO photographer in Southeast Asia. He was the last man to sign out of DASPO.
Title

Finding Aid

Length (Linear Feet)

1.0

Pages

1

Location(s)

Photograph Collection, Museum Objects
1

Photographs

VA028370 - VA028387

Click here to view all Photographs

1

Museum Objects

728museum2181: Vietnam era class "A" uniform. Jacket has Specialist 5 (Spec 5) rank insignia and Army Service Forces shoulder patch.

Click here to view all Museum Objects
---
Pub Credit Line

7280000000, Ed Lewin Collection, The Vietnam Center and Archive, Texas Tech University

---

Added: 18 Jun 2002 [Updated: 10 Aug 2007]
Vietnam Center & Sam Johnson Vietnam Archive